Cornish choir funds aid Bendigo mining memorial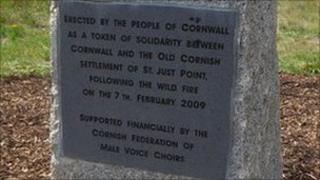 The strong links between Cornwall and Australia have been reinforced by the installation of a memorial in the Australian city of Bendigo.
It recalls the devastating bush fires of February 2009 which claimed 173 lives in the state of Victoria.
Many historic cottages which had been built by Cornish miners in 19th Century Bendigo were also destroyed.
A quarter of a million descendants of those miners who went to dig for gold now live in the city.
Much of the money for the memorial was raised by the Federation of Cornish Male Voice Choirs.
The monument has been erected at St Just Point, a popular part of Bendigo.
It says: "Erected by the people of Cornwall as a token of solidarity between Cornwall and the old Cornish settlement of St Just Point, following the wild fire on the 7th February 2009. Supported financially by the Cornish Federation of Male Voice Choirs."
Tom Luke, who lives in Bendigo, said: "We're very proud of our Cornish heritage.
"I made a statement to a friend a couple of days ago, saying give me one page of the Bendigo Advertiser and I will find you five Cornish names without even looking."
One person in Bendigo died during the bush fires, but many people had to flee their homes.
Members of the choir federation staged a concert and raised more than £1,200.
Terry Hodge, chairman of the organisation, said said: "They are brother Celts and we thought if we put a concert on they could use the money how they wished to spend it.
"The Cornish never break their ties. We love them and they love us."