Grant for Porthcurno Telegraph Museum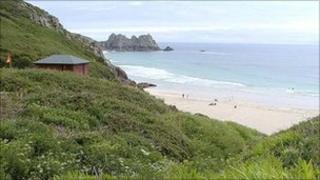 Cornwall's telegraph museum at Porthcurno has won a major grant.
The Clore Duffield Foundation is funding £125,000 towards a learning centre at the attraction.
The foundation is giving £8.2 million to 11 cultural organisations across England to help new learning spaces designed by leading architects.
The Porthcurno museum celebrates the role played by the village for 100 years in the world of international communications.
At one time 14 cables ran from the beach in west Cornwall to many countries across the British empire.
The valley was the hub of international cable communications from 1870-1970.
Porthcurno was also a training college for the communications industry until 1993.
Museum director Libby Buckley said: "It's a hard climate to be fundraising in.
"We've raised £900,000 of the £1.5m we're trying to raise. So this is a big step as it's a high profile grant."
The Clore Duffield Foundation was founded in 1964 by the late Sir Charles Clore, one of Britain's most successful post-war businessmen and one of the most generous philanthropists of his day.
It has distributed more than £50m to charitable purposes over the past decade.
Sally Bacon, executive director of the foundation, said: "We got a lovely proposal in from Porthcurno.
"It's such an extraordinary place in terms of the history and its importance in global communications.
"This tiny little cove brought communications all over the world.
"We're based in London so it's great to be pushing our money further out, right down to the westerly tip of the British Isles."
At one time Porthcurno was the largest cable station in the world. Now the museum hopes to be a focus for representing local history as well as its communications past.