Wadebridge School pupil dies from meningitis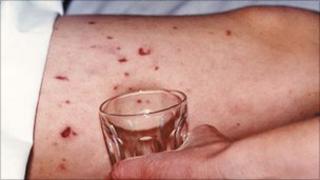 A schoolgirl has died and another is in hospital after contracting meningitis in Cornwall.
The dead girl, who has not yet been identified, was a pupil at Wadebridge School.
The mixed comprehensive school has about 1,200 students aged between 11 and 18.
The Health Protection Agency (HPA) has confirmed that pupils in years seven and eight will be treated with antibiotics as a preventative measure.
Head teacher Tina Yardley has written to parents to tell them about the year eight pupil's death and urged them to watch for symptoms of meningitis.
She said anyone presenting with symptoms should seek urgent medical attention.
Meningitis is an inflammation of the membranes that cover the brain and spinal cord.
There are two main types of meningitis - viral or bacterial.
Most people recover fully from viral meningitis which begins with flu-like symptoms, including aching muscles and fever.
Cases of bacterial meningitis tend to be more severe, with a greater risk of complications or death.
In the UK meningococcal meningitis is the most common and Laurence Knight, from the HPA, said it had been confirmed that the girl who died had contracted meningococcal group B.
The second pupil is suspected of also having the group B infection, but Mr Knight said she was "stable and doing well".
Miss Yardley said the pupil who died was a "beautiful and talented little girl, whose smile lit up the room" and was a credit to her family and the school.
In her letter to parents, Miss Yardley said: "I am sure you can imagine the shock and devastation that her family are experiencing and the very deep impact that a tragedy such as this has on everyone here at school.
"We will do our very best to support her family, her classmates and our staff and all of our love and thoughts are with her family at this time."
The HPA has advised that the school routine should continue as normal.
Dr Mark Kealy, from the HPA's South West Peninsula Health Protection Unit, said the likelihood of another child in the school developing meningococcal infection was low.
"Each child and staff member from years 7 and 8 will be given a single dose of antibiotic at the school on Thursday," he said.
"This antibiotic will prevent anyone carrying the bug from passing it on to others."
Steve Dayman, from Meningitis UK, said it was important for parents to be alert.
The charity's chief executive lost his own son to the disease in 1982.
Vaccine protection
"To lose a child to a terrible disease like this is the biggest emotional challenge a parent can face and my heart goes out to all her family and friends at this difficult time," he said.
"While it's important not to panic, people need to be alert to the disease's symptoms and act swiftly if they're concerned."
He said the bacteria which cause the disease can only be passed from person to person in nasal or oral droplets.
"The bacteria are harmless to most of us but can potentially turn into deadly killers, which is why people need to remain vigilant," he added.
Vaccines can protect against some strains of meningitis, but there is still not one available for meningococcal group B.