Joint campaign to cut farm fires in Cornwall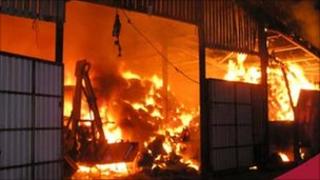 The danger of fires on farms and ways to prevent them have been highlighted in a joint campaign in Cornwall.
According to Cornwall Fire and Rescue Service, crews attend an average of 36 farm or agricultural building blazes every year.
Many buildings are destroyed, along with straw, farm machinery and even livestock.
The fire service, Cornish Mutual and NFU Mutual have produced a fire safety advisory booklet to help farmers.
Fire safety officers will also be visiting arable and dairy farms in Cornwall with insurance inspectors.
The initiative was prompted by recent fire protection legislation which applies to all farm buildings where people work, including packing sheds, milking parlours, barns, holiday lets and farm houses used for bed and breakfast.
If five or more people are employed, farmers are required by law to carry out a risk assessment of their buildings and record the findings.