Parish council 'coasteering' ban at Cornish cliffs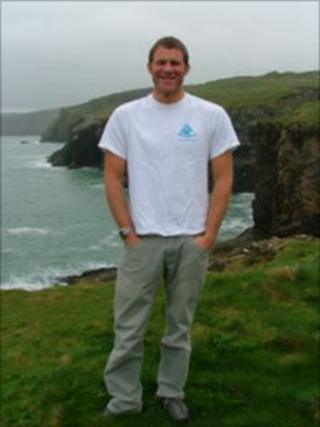 A Cornish firm which runs "coasteering" events says it "could be put out of business" after a council banned the sport on its land.
The sport - which involve swimming, jumping and cliff climbing - has been prohibited by St Endellion Parish Council for "insurance reasons".
Coasteering organiser, Matt Wheadon, said the liability lay with the firm.
The council said the legal position was different for people outside of organised groups and it had no option.
Mr Wheadon, a director of Cornish Rock Tors, said hundreds of people had jumped with his company in the past three years and there had been no serious injuries.
He said the company had a duty of care for visitors.
"As far as I understand, the liability lies with us as a provider and no liability falls on the council," he said.
'Not covered'
In a statement the parish council said it had received advice from its insurance company and the Cornish Association of Local Councils.
The authority said it had been told that if there was an accident involving someone who was not with a party it would not be covered.
It said the other option would be for the council to supervise the activity, but the authority did not have the resources.
Mr Wheadon said the maximum cliff jump was 10m (32ft) and all instructors were qualified lifeguards.
Three coasteering companies use the cliffs at Port Gaverne.
The parish council said it had received a written submission from one of the companies involved and was seeking further advice.