Grenade found in Cornwall garden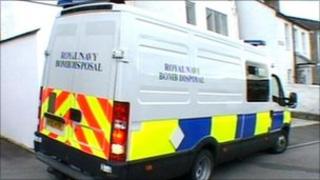 A World War II grenade discovered in the garden of a Cornwall house has been taken away by a bomb disposal team.
The Mills grenade was found at Dunstanville Terrace in Falmouth on Saturday.
A team from Royal Navy Bomb Disposal, based at Devonport naval base in Plymouth, removed the grenade.
It said it was not dangerous because the explosive and detonator had been removed.
A spokesman said that many grenades were kept by service personnel as souvenirs after World War II.