Commission 'satisfied' over Penzance day centre gift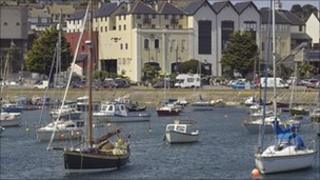 The Charity Commission said it is "satisfied" a £20,000 donation made by a Cornish day centre prior to its closure was appropriate.
The St Mary's Haven day centre in Penzance donated the money to the town's Catholic church shortly before shutting in February 2010.
The church's priest, who was also a trustee of the day centre, said the donation had been the "dying wish" of one of the nuns who founded the centre.
The centre closed after its trustees said it was no longer financially viable.
But the nephew of Sister Bernard, the nun, said he wanted the investigation into the closure re-opened.
Bernard Condon told BBC Radio Cornwall: "The issue we have with the £20,000 donation, in a period when the trustees claim they were experiencing substantial losses, is why would you give away £20,000 to others when you're pleading losses?"
'Viable project'
He said he wanted to know why Father Dyson, the church's priest, had remained in the trustees' meeting at which the £20,000 donation was agreed.
In a statement the Charities' Commission said: "We have addressed this matter with the trustees of St Mary's Haven, Penzance.
"We are satisfied that although the trustee connected to the church was present at a meeting at which the donation was discussed, he had not asked the charity to make any contribution to the church."
Father Dyson said: "Sister Bernard's dying wish, agreed with Mother Philomena, was that £20,000 was to be given for the redecoration of the church in memory of the Presentation Sisters.
Elderly care
"Much of that money had been raised by Sister Bernard herself along with fellow parishioners for that sole purpose.
"They raised it with various charity shops and stalls, including our Old School, which is not part of the Haven.
"The cheque came from the Convent Account, not from St Mary's Haven Day Care Centre."
St Mary's Haven offered day care for the elderly and about 25 people attended it every day.
A financial report into the day centre said it made operating losses in 2007 and 2008.
But it also said it remained a "viable project" and a "much-appreciated service in the town".
When the closure was announced Mr Condon offered £50,000 towards the cost of keeping the centre open.