Has 'Banksy' artwork been discovered in Cornwall?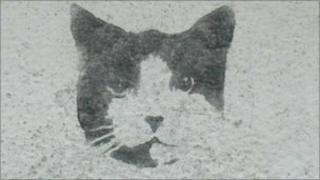 A Cornish artist claims a stencilled image on a Cornish landmark could be a previously unknown work by Banksy.
Peter Gale, from Redruth, believes the image of a cat discovered in the north Cornwall coastal village of Portreath could be a Banksy original.
It was discovered on the seaward side of the old huer's hut, known as the 'Pepper Pot'.
Mr Gale said: "I'm not sure what it says or why it's there but it's a wonderful little pussycat.
"I do love the way Banksy remains so mysterious. No one can really speculate who it is."
Mr Gale put the picture of the cat on the social media network Facebook, asking other users whether they thought it was a Banksy original.
Banksy is notorious for being secretive about his identity. But whoever he is, one expert, Keith Sekree, from the Taoi Gallery in Southampton, is not convinced about the Cornish artwork.
Mr Sekree said: "I don't think it's got the message that everyone relates to Banksy's work.
"Although it's a nice image, unfortunately I just can't see it being a Banksy."