BBC Introducing: Carrie Elkin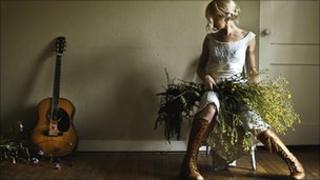 Carrie Elkin is a soulful singer with a gypsy spirit, a songwriter with a keen eye.
She documents the human condition with sensitivity and humour, crafting songs that have garnered attention at prestigious songwriting contests.
As Maverick Magazine put it: "We have never seen a performer so in love with the act of singing. Onstage Elkin was simply a force of nature."
With her dazzling voice and unpretentious charm, she wins over new fans at every show.
Carrie got her musical start young, singing in church and playing the saxophone.
She is bringing her self-penned songs to Cornwall on a mini tour in April.
Carrie performed an acoustic session on the David White Show on Monday 18 April 2011. Click on the audio link to hear Landeth by Sea.
Of her early life Carrie said: "I have moved around a lot. I grew up in Ohio and moved around the States a lot. I wanted different life experiences. I was an organic chemist at one time. It's a natural progression from chemistry to folk singing!
"The music part was always a part of my life. Apparently I was singing before I was talking, so I thought I should be true to that. I picked up a guitar in college and fell in love with it."
Carrie's regional tour includes:
Wednesday 20 April at The B-Bar, Barbican Theatre in Devon.
Thursday 21 April at The Blue Walnut Cafe in Torquay
Friday 22 April at The White Horse Inn in Launceston.