No Cornish show for 'absconded' Nepalese choir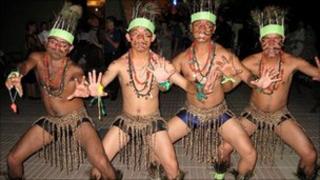 A Nepalese choir due to sing at a Cornish festival are believed to have "absconded" from a UK airport, organisers have said.
Cornwall International Male Voice Choral Festival said the 10 singers were missing when it sent transport to Heathrow Airport to collect them.
Festival chairman David Peters said immigration officials had been informed and they were investigating.
A Russian choir has also not arrived after being barred from leaving Russia.
The group, called Voice Message, was detained in Ekaterinburg by Russian customs officials.
Organisers said they had been told by the choir that two members had previously worked for the military and were not allowed to leave Russia.
'Great disappointment'
As well as singing in concerts in Cornwall, the Nepalese singers were due to hold workshops in schools.
When the Cornish festival minibus arrived at the airport to pick them up at 0730 BST on Tuesday, the choir was nowhere to be seen.
Mr Peters said: "They did arrive at Heathrow and it seems they have absconded.
"We kept on hoping they had missed the plane, but we have been in touch with the immigration authority who are now investigating what has happened.
"It's a great disappointment as they would have added an enormous amount of colour to the festival."
A UK Border Agency spokesman said: "We are aware of this group and are looking into the matter further.
"All of the group entered the UK lawfully at Heathrow on valid visas.
"Anyone in the UK on a visa who later fails to abide by its conditions faces having the visa withdrawn and will be required to leave the country."
Speaking about the Russian choir, Mr Peters said: "They had their visas and they were all ready to board the plane.
"Then we received an e-mail that the Russian customs had said that as two of the singers had been employed by one of the military offices they would not let them board the plane.
"As there were only eight of them in the group it made it impossible for them to continue."
There are other Russian choirs taking part in the festival, which started on Wednesday and runs until Monday.
About 60 male choirs from Cornwall, the UK and across the world are taking part in the festival.