HMS Raleigh service marks Blitz deaths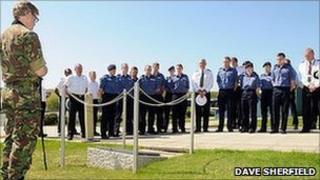 Sailors at HMS Raleigh in Cornwall have remembered those who lost their lives 70 years ago during the Blitz.
The service at the establishment commemorated the lives of 44 sailors and 21 Royal Engineers who were killed at HMS Raleigh.
They died when a bomb hit an air-raid shelter on 28 April 1941 and are buried in war graves at Horson cemetery in Torpoint.
The service was held at a memorial stone which honours those who died.
Royal Navy chaplain Reverend David Wylie conducted the service.
He said: "Each year we visit Horson cemetery on Remembrance Sunday with trainees and others from HMS Raleigh.
"On this, the 70th anniversary of the bombing of Plymouth, which led to their deaths within this establishment, it seems appropriate to remember them."
The German air raids on Plymouth began in March 1941, but the heaviest attacks occurred in the latter half of April.
The Royal Navy said 123 aircraft targeted Plymouth on 28 April 1941, dropping 123 tonnes of explosives.
It said there were civilian casualties but the only fatalities that night were the personnel based at HMS Raleigh.