Royal wedding: Cornwall celebrates with street parties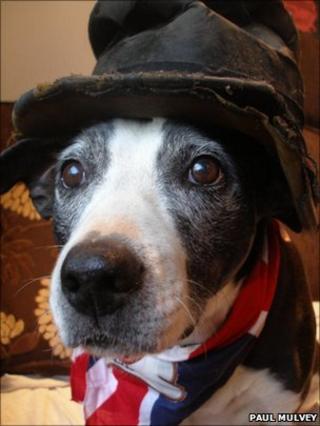 Street parties to celebrate the wedding of Prince William and Kate Middleton have been held across Cornwall.
One of the biggest was at Mawnan Smith, near Penryn, where more than 500 people were expected to attend.
Villagers had been planning the event for weeks with colourful bunting on many houses and businesses.
Arthur and Joan Gray, who have lived in Cornwall for more than 25 years, were celebrating their 67th wedding anniversary.
Arthur, who was in the Royal Navy, and Joan were married on 29 April 1944 in St George's Church in Enfield.
Mrs Gray, 89, from St Germans, said: "I just wish Kate and William have a happy life, like we've had.
"Our message to them is just be true and love each other."
'Support from everybody'
Villagers in Mawnan Smith said they had been "astounded" by how much support there was for the celebrations.
Organiser Michelle Dickson said: "We've had support from everybody that's linked even loosely with the village.
"We've had massive donations of goods and time and effort, and I think there's a really good feeling around the whole village. Everyone's talking about it."
In the village of Feock, many party-goers donned patriotic and wedding-themed hats.
The village's eldest resident, 103-year-old Jenny Pelmore, said she though the celebrations were "wonderful".
"I'd no idea it was going to be so big. I thought it was just going to be a little table of bits and you'd help yourself."
She added that her advice for anyone who wanted to live a long time was "to just keep going".
Elsewhere in the county, the royal wedding was celebrated with a traditional tree planting that was also used to mark the marriage of Queen Victoria.
Two young horse chestnut trees at the Lost Gardens of Heligan were trained and twisted around each other before being planted together.
It is a technique traditionally symbolising the unity of marriage and was used in 1840 when Victoria, William's great-great-great-great-grandmother, married Prince Albert of Saxe-Coburg and Gotha.
A spokesman said: "There are two trees about 40ft (12m) high currently standing in Heligan, believed to have been planted according to this technique.
"Since the announcement of the engagement gardeners have been carefully training two red-flowering English horse chestnuts in the same manner."
Military personnel from the county were involved in the wedding itself.
A Royal Navy team from RNAS Culdrose was in London as part of the 1,000-strong combined armed forces contingent for the wedding.
A lieutenant commander and a senior rating from the Helston base were in charge of 29 junior ratings, the MoD said.