Woman and dog rescued from house fire in Liskeard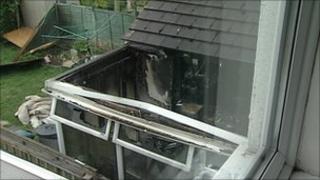 A woman from Cornwall and her dog have been rescued by her neighbours after her house caught fire.
Neighbours of the Liskeard woman broke into her house in Eddystone Rise after the fire broke out at about 2120 BST on Saturday.
The woman was taken to hospital suffering from smoke inhalation.
Firefighters said the property did not have smoke detectors and praised the action of the neighbours, saying they prevented a much more serious outcome.