'Missing' Nepalese choir performs in Cornwall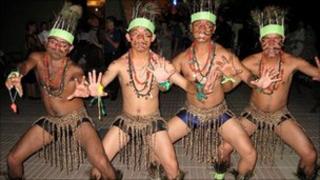 A Nepalese choir which went missing on its way to a Cornish music festival has turned up and performed in the county.
The singers' disappearance sparked an investigation by the UK Borders Agency after a minibus sent to collect them from Heathrow failed to find them.
However, the 10-strong choir made it to the Cornwall International Male Voice Choir Festival, organisers said. Choir members said they had got lost.
They appeared at St Agnes on Friday and Liskeard on Saturday night.
They are due to sing at Heligan Gardens on Sunday afternoon.
Cornwall International Male Voice Choral Festival said when the festival minibus arrived at the Heathrow airport to pick them up on Tuesday, the choir was nowhere to be seen.
The UK Border Agency said the group had entered the UK lawfully at Heathrow on valid visas.