Rick Rescorla's cousin welcomes Bin Laden death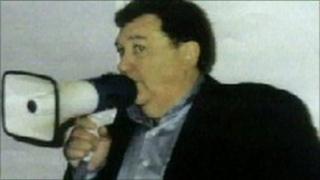 A relative of a Cornishman who was killed in the attacks on New York and Washington on 11 September 2001 has welcomed the death of Osama Bin Laden.
Al-Qaeda leader Bin Laden, who masterminded the attacks, has been killed by US forces in Pakistan, President Barack Obama has said.
Rick Rescorla, originally from Hayle, died after he led 2,700 people to safety from the World Trade Centre.
His cousin John Daniels said Bin Laden's death was a "great relief".
A 6ft-high granite tribute stands in memory of Mr Rescorla in Hayle.
'Very pleased'
He was the security manager for Morgan Stanley Dean Witter at the World Trade Centre in New York when two planes struck the twin towers on 11 September 2001.
The 62-year-old, who shepherded thousands down from the south tower, was last seen going back up the stairs but his body was never recovered.
Bin Laden was killed in a ground operation in northern Pakistan, said Mr Obama.
Mr Daniels said: "I am very pleased to hear it although it is 10 years too late.
"I imagine that everybody is relieved that he's finally been caught and despatched."
He said it was a "great relief" but warned that Al Qaeda would be planning to hit back.
"Al Qaeda must have been thinking about this for the last 10 years and there's probably someone slipping into his shoes right now."
He said Mr Rescorla's heroic actions had not been forgotten and people still regularly visited the memorial in Hayle.