Fears over Cornwall patient care drive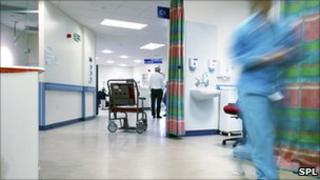 There are claims that a new drive to improve patient care standards in Cornwall is being undermined because NHS staff are under too much pressure.
The Cornwall and Isles of Scilly Primary Care Trust wants to improve care and increase respect and dignity on wards through the TLC campaign.
But one therapist told BBC Radio Cornwall nurses were "propping up the NHS" but were "rushed off their feet".
Jason King lives in St Austell and is registered blind. He has been in and out of hospital for operations and treatment since 1979.
"I know that these people are busy, they've got their routines. The patient needs to stop and consider, 'that nurse is rushed off her feet'.
"They've just asked them to do something and they've not come back, why am I getting ratty with them for not doing something when they're busy, there's only one person and they're only human."
'Small things'
Stasha Bergman Griffiths worked as an occupational therapist at Newquay Hospital and has 20 years experience working in adult social care.
"I definitely think they are propping up the NHS and I think that when you get a problem between patients and the staff it isn't really either sides' fault.
"It's lack of understanding and sympathy each for the other because the nurses are rushed off their feet."
Carol Williams, the PCT's director of Nursing said: "This isn't about a policy, this is about recognising that it's the small things that can make a really big difference to people's experience.
"Recognising the needs of the individual and planning that care throughout the stay, could prevent more time spent later down the line."
The head of governance at the Cornwall and Isles of Scilly Primary Care Trust, Trish Cooper, said the new campaign is about making simple changes on the wards and would not cost anything more to deliver.
Ms Trish Cooper said: "We're talking about key parts of respect and dignity that don't cost."