Funding fears for small Cornish schools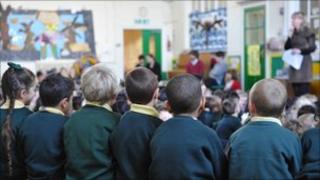 A teaching union has claimed some of Cornwall's small schools could close because of government education plans.
The National Union of Teachers (NUT) said policies on academies and changes to the funding formula are a threat to schools with low numbers of pupils.
Cornwall has 118 schools with less than 120 pupils attending.
In the Helston and Lizard area there is a proposal for schools to form a co-operative trust to protect smaller primaries.
Local authorities can decide how to distribute local resources for schools. Cornwall County Council keeps a fund to protect smaller schools but as more schools become academies, the scope for doing this is becoming more restricted.
The NUT says the government's current education policy means money is being taken from the small schools grant and is being given directly to academies.
This is diminishing the ability for the local authorities to support all small schools in the county, it said.
'Shrinking pot'
Ian Williams, from the union, said: "If you look at the cost of educating young people in this county, it ranges from £1,300 to £13,000.
"As you have that shrinking pot, the local authority are going to have to make some very difficult decisions about the sustainability of schools."
Dr Pat McGovern, headteacher at Helston Community College, said action must be taken to protect the area's small primary schools.
"These schools are small and expensive to run, but they are very important to their local communities. These villages need their schools," he said.
"Otherwise you have to envisage a situation where children as young as four and five are being put on buses early in the morning and having to travel to a more central location."
Dr McGovern is proposing a plan called a Co-operative Trust where the 24 schools in the area would come together in a more formal, legal set-up than the current informal clusters.
By sharing resources, facilities and staff, schools could then support each other, in areas they would otherwise struggle, he said.
Stephanie Haskins, headteacher of Halwin School in Porkellis near Helston, which has 77 pupils, said: "Already we work with a network with three local primary schools.
"I think those schools are being pro-active in looking at ways to be sustainable and keep the local school in the local community."
Cornwall councillor Neil Burden, who is in charge of education at the council, said if the money was not there and the system did not allow for small schools, they would simply cease to exist.
He said there was an urgency to get things moving so that Cornwall Council could give advice and support.