Falmouth man shot with taser at party denies violence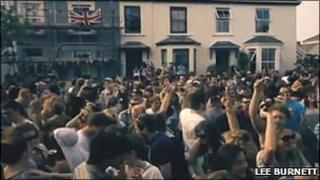 A man shot with a Taser stun gun at a royal wedding street party in Cornwall has denied acting violently towards police.
Stefan Naumczyk, 19, from Falmouth, was cautioned by police for being drunk and disorderly at the party in the town.
He has claimed it was not necessary for police to use the Taser.
But police said they had been called to complaints about disorder and the Taser had stopped the incident escalating, resulting in further disorder.
Mr Naumczyk told BBC Radio Cornwall that he thought a policeman believed wrongly that he had thrown a bottle at him.
He said: "We were told not to put bottles on a wall so I kind of absent-mindedly tossed my bottle behind me and it broke on the floor.
"He (a police officer) came over and asked me if I'd thrown the bottle at him, which I hadn't.
"I said...'I didn't realise you were there, it wasn't supposed to be anything malicious, I am sorry, I will clear it up.'"
Residents' complaints
Mr Naumczyk was held overnight at a police station before being cautioned and released the next morning.
He admits to being "fairly intoxicated" at the party but said he can remember the details of the incident "100%".
He said he now feels "a bit let down" by the police.
"It was a lot more than was needed really, given what I'd done."
Devon and Cornwall Police confirmed a Taser had been used to incapacitate the him.
Supt Craig Downham, police commander for West Cornwall said: "In this situation officers were responding to a developing incident where a man was drunk, violent and resistant, who was a substantial danger to himself and to the hundreds of other people in the street.
"The two officers involved put out a call for urgent assistance to deal with the arrested male, and one of them was injured in the process."
He added: "Officers were faced with a large scale and volatile event involving hundreds of people, many under the influence of alcohol.
"Had Taser not been available, the incident could have escalated and been far more serious, resulting in further disorder and injuries to others."
The Malborough Street party, which was advertised beforehand on the internet, was attended by about 500 people.
Police were called after complaints from some local residents.