Helston in Cornwall celebrates Flora Day with dancing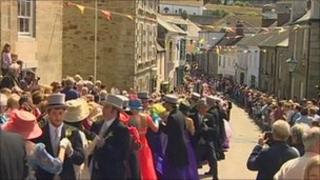 Thousands of people lined the streets of a Cornish town to take part in what is thought to be one of the country's oldest traditions - Flora Day.
People in Helston began gathering in the streets just after dawn for the first dance of the day at 0700 BST.
The main dance, at midday, saw men in morning dress and top hats and women in dresses, hats and gloves leave the Guildhall and dance around the town.
The festival is believed to date back to pre-Christian times.
The town was a mass of colour as shops and houses were decorated with greenery, bluebells and bright yellow gorse.
The event, which attracts large crowds every year, is usually held on 8 May, unless that day is a Sunday or Monday.
Its origins are believed to be connected with pagan rites of fertility and also to mark the coming of spring.