Litter catch payment plans for Cornwall fisherman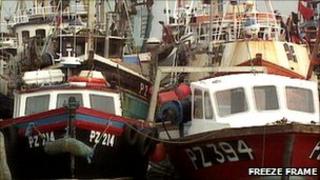 Fishermen in Cornwall could be paid to collect rubbish if a European Union trial project in the Mediterranean is successful.
Fishing vessels would be given special plastic-catching nets and cash in exchange for the waste.
The aim is to reduce an estimated 250 billion pieces of floating plastic and give fisherman a financial boost.
The Cornish Fish Producers' Organisation said such a project would be "doing the right thing."
Maria Damanaki, European commissioner for fisheries, is expected to unveil the project later this month.
The trial project aimed to provide fleets with an alternative income source while reducing pressure on dwindling fish stocks, the EU said.
In Cornwall, a "fishing for litter" scheme has already been running since April last year, but the project offers no rewards for the rubbish caught.
Supported by Cornwall Council, the scheme provides sacks and waste collection facilities as well as covering all the costs involved with the disposal of the waste, to encourage skippers to dispose of the litter netted.
Paul Trebilcock, chief executive of the county's fish producers organisation, said he did not believe income from the scheme would replace the income from fishing.
But he added: "Fishermen are custodians of the sea, so were willing to take that one on."