Tesco and second firm in supermarket bids for Camelford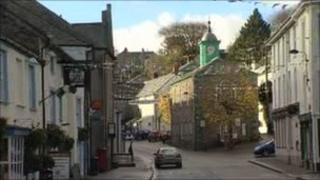 Plans for two supermarkets have been put forward for a town in Cornwall.
Cornwall Council said it had accepted an offer from Tesco for the site of a former primary school in the Highfield area of Camelford.
However, it added that the move was subject to the scheme getting planning permission.
Proposals for another store, by private development company RJ Walker, have been put forward for a site off Victoria Road.
'Very good' consultation
The council said it would not release details about the amount offered for the school site yet because the sale was on condition of planning permission being granted.
RJ Walker said its plans were for a mixed-use scheme at Culloden Farm, a privately owned landholding.
The proposals include a "medium-sized foodstore", a new medical centre, a pharmacy, some employment spaces, 20 residences and a focal point for bus services to link villages, neighbourhoods and the town centre.
It said that the feedback it was having from a consultation process so far was "very good".
It added that the consultation process was still continuing.
However, there have been some mixed reactions to the proposals within the town.
'Terrible traffic problems'
Town councillor Brian Lush said the town would not survive without a supermarket "with the prices of petrol these days and the fact that we're about the only town in Cornwall without a reasonably solid supermarket".
He added: "The surrounding area, which within the next 30 years is going to expand with new houses, those houses have got to be served with jobs and facilities."
However, Terry Tague, former chairman of the chamber of commerce, said that local infrastructure could not cope.
He said: "We've got a terrible traffic problem already in Camelford. What we've got is a system that barely works.
"On busy days it doesn't take much to get clogged up and for the system to break down."