Cornish village remembers its Jewish evacuees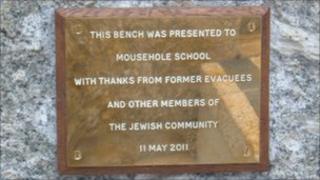 The evacuation of 100 Jewish children to Cornwall during World War Two hasbeen commemorated at a school near Penzance..
A ceremony took place on Wednesday 11 May at Mousehole School, where the evacuees were taught.
A plaque was unveiled at the school which coincided with the launch of a new book.
The publication recalls the way the London children became part of life in the Cornish fishing village.
Pam Fields was one of the children from Jewish families who spent her early years in Mousehole.
Her father was a teacher who came to Cornwall with the pupils from the Jews Free School in London's East End.
She said: "Children just grew up together. They were my playmates. I know from the recollections from my mother who adored this place that everybody just pulled together. It was a wonderful time."
Mrs Fields unveiled the plaque at Mousehole School which thanks the village for what they did for the evacuees.
'East End to Land's End'
The memorial bench in the school's playground has been paid for by donations from the evacuees.
The school's acting head teacher Chris Roynon said it has helped his youngsters understand what happened in the war.
"It's really fascinating for them. Understanding that those children were the same age, but having such different experiences, has been a really interesting story for them."
Susan Soyinka has written a book, called from East End to Land's End, telling the story of how the London youngsters came to terms with life in a Cornish fishing village.
She said: "Villagers had a small allowance as part of the evacuation scheme. They gave them pocket money and bought clothes for them.
"Villagers did all sorts of things that were beyond the call of duty. They became part of the village."
Once the war ended some of the youngsters maintained close ties with Mousehole when they grew up, keeping in touch with villagers, coming to Cornwall on holiday and even retiring to the village.