Cornwall's 'First Click' success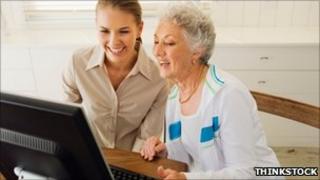 A group of BBC Radio Cornwall listeners is off to London to tell government ministers how they have helped people overcome their fears of using the internet.
The Cornish computer buddies have been promoting the BBC's First Click scheme.
Now Prime Minister David Cameron is backing the next initiative 'First Click Friends' along with digital champion Martha Lane-Fox and veteran broadcasters Clive Anderson, Gloria Hunniford and Jon Snow.
Alan Lodge, from Roche in mid Cornwall, signed up to the initiative to help others tackle the internet.
He said: "First Click is very important to stop people from buying a computer and sticking it in the corner. I have been doing this for years and I still need support sometimes. But you have to let people know you can't break it. If the worst comes to the worst, pull the plug out and start again.
"First Click has helped communities get together. You don't want people telling you what to do in a shop.
"You want them in your front room or your local pub having a consultation."
Mr Lodge is one of those heading to London to promote the First Click scheme.
It all originally started on Friday 22 October 2010 when more than 40 people sampled life online for the first time.
For many people the internet is a part of their everyday life; visiting the BBC Cornwall website for local information, catching up with friends on Facebook or Twitter, and sending emails all over the world. But 31% of BBC local radio listeners have never been online.
Now the BBC has launched its latest First Click campaign called First Click Friends. It aims to mobilise and support the millions of us already using the internet to help a relative, neighbour or friend to get online.
At the heart of the campaign is a new website, First Click Friends which will host a series of inspirational films in which these popular TV presenters demonstrate how they use the internet to pursue their interests and hobbies to enhance their lives.
The BBC's First Click campaign aims to encourage the estimated 9.2 million people in the UK (Source: ONS, August 2010) who have never been online to take the first step.