Filipino community hold 'Flores De Mayo' festival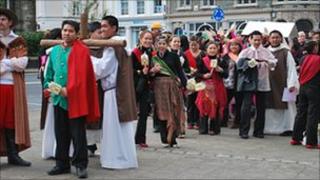 Members of the Filipino community in a town in Cornwall are to hold a traditional festival on 14 May.
'Flores de Mayo' (Flowers of May) is a typical and traditional Filipino event which takes place in the month of May.
Organisers of last year's festival felt it was such a success the community in Callington is to hold another.
'Flores De Mayo & Santacruzan' will take place throughout the town. During it, young and old will come together to keep their culture and heritage alive.
First for youngsters
This festivity was introduced to the Philippines by the Spaniards in the 16th Century and has since become the Filipino tradition.
It is identified with youth, love, romance and, most especially, Christian faith among the devotees.
Merlin Maguire, organiser of the festival, said: "In every town, every village, citizens of the Philippines celebrate this particular festival and together with that we have the Santacruzan - a religious, historical pageant."
"All our festivals seem to be related to our religion and our faith."
"We have a lot of young children now, some of whom have been born here and some who came here as young as three- or four-years-old, who have never seen this kind of festivity in their lives.
"Our reason is to maintain their Filipino culture and heritage and especially their faithfulness as a Catholic."