Fighting men arrested during Truro opera intermission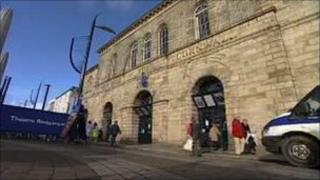 Two men have been arrested after an off-duty policeman followed them into a theatre after seeing them fighting.
Sgt Gary Watts pursued the pair as one chased the other into in Truro's Hall for Cornwall, during the intermission of a Puccini opera performance.
He arrested one of the men in the theatre, before other officers arrived and arrested the other.
A 20-year-old was arrested for affray and a man in his 30s for being drunk and disorderly.
'Struggle in the stalls'
Sgt Watts, who was on his way home after attending an evening class with his wife, said he spotted a gang of men goading a lone man into a fight.
The man punched one of the gang, and the victim immediately starting chasing him.
The 38-year-old officer followed them into the theatre where the English Touring Opera company was performing Puccini's one-act operas Il Tabarro and Gianni Schicchi.
He tackled one of the men and arrested him in front of opera-goers.
The other man was chased and arrested by officers who arrived at the scene.
Former RAF serviceman Sgt Watts, a neighbourhood team leader for Devon and Cornwall Police in Falmouth, revealed the arrest on his Twitter page.
He wrote: "Evening out with my wife ended with me chasing two men who were fighting thro the city into a full Hall for Cornwall theatre during an opera intermission. Followed by an arrest and struggle in the stalls."
He later added: "First time anything like this has happened in the theatre's 13 years, according to staff. Bet some thought it was part of the show."
The Hall for Cornwall said the show "went on without interruption" afterwards.
Both arrested men were later released on police bail.