Pistol shrimps found in Cornwall go on display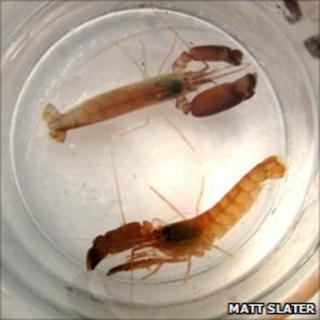 A pair of rare Mediterranean shrimps renowned for the unusual noise they make have been found in Cornwall and are on display at a nearby aquarium.
The pistol shrimps, which use their claws to make a loud cracking noise to stun prey, were discovered at Marazion, the Blue Reef Aquarium in Newquay said.
They are believed to be one of the ocean's loudest creatures because of the cracks they can produce.
There have only been a handful of sightings in UK waters, Blue Reef said.
The bright orange shrimps were found by a local naturalist John Munday while he was out rock-pooling on the lower shore at Marazion.
Blue Reef curator Matt Slater said: "Only a handful of this type of shrimp has ever been recorded in UK waters, although their numbers do appear to be on the rise in recent years.
"It is extremely rare to find this species on the shore. All the other recent records have been from fishermen, mainly in Falmouth Bay.
"It is also highly unusual to come across a pair and, since arriving at Blue Reef, the female has had no fewer than three batches of eggs," he added.
The shrimps are believed to be able to create cracks that reach up to 218 decibels. As a comparison, an aircraft taking off is about 110 decibels.
It has been reported that the pressure wave created by the shrimp's crack is strong enough to kill a small fish.
As ocean temperatures continue to rise it was likely that pistol shrimps, along with other warmer water species, would become more common in UK waters, Mr Slater said.