South West Water moves supplies to avoid hosepipe ban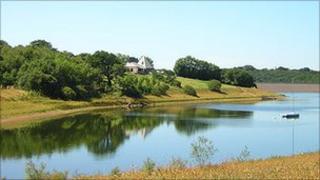 Hundreds of millions of litres of water are being moved around south west England by a water company in a bid to avoid hosepipe bans during the summer.
South West Water - which covers Devon, Cornwall and areas of Somerset and Dorset - is using pipe networks to move supplies to areas of greatest demand.
It follows recent dry months, including the driest March on record in the area for more than 50 years.
The company said it was confident there would be no water restrictions.
South West Water has three strategic reservoirs - Colliford, Roadford, and Wimbleball.
It said it was using these to pump back-up supplies to smaller local reservoirs if needed.
Roadford reservoir - which is between Okehampton in west Devon and Launceston in Cornwall and has a net storage capacity of 34,500 megalitres (eight billion gallons) - is less than three quarters full.
However, it can be used to supply Torbay in the south of Devon, which is an area of much less rainfall and much higher demand for supplies.
The company said it was confident it would be its 15th consecutive year without water restrictions.