Cornish nursing home must 'improve standards of care'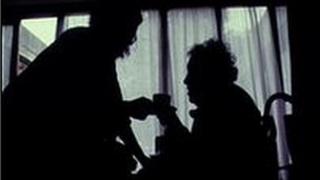 Owners of a private nursing home in Cornwall have been told to improve standards or face enforcement action.
Inspectors from the by the Care Quality Commission (CQC) said King Charles Court in Falmouth was not meeting four essential standards.
The NHS said admissions to the home had been suspended and work was under way to improve standards.
The home's owners said they would continue to address the issues and felt they had improved the quality of care.
The inspectors' report identified concerns with levels of staffing, care and welfare of residents, nutrition and the state of the premises.
Bernadette Hanney, acting regional director of CQC in the South West, said: "Frail, older people often need help to eat or drink - but we found they were simply left to cope."
'Remain concerned'
The CQC said the report followed a previous visit to the nursing home, in November 2010, in response to people's concerns.
Inspectors visited the home again in February and said they found improvements in some areas, but the care provided was still not to the expected levels.
Carol Williams, executive nurse for NHS Cornwall and Isles of Scilly, said: "Despite some encouraging improvements, we remain concerned that care at King Charles Court has not yet reached the standard we require.
"For this reason, the primary care trust and the council have suspended all admissions to the home until we are satisfied that standards have improved significantly."
Ms Williams said improvement work would continue and staff would receive additional training.
In a statement, King Charles Court director Barry Libby said: "We have been, and will continue, to work together in partnership with external agencies to address the issues.
"Since the inspection in February, we have been working to implement the actions outlined and feel positive we are improving the quality of care we provide."
Ms Hanney said: "Our inspectors will return to King Charles Court in the near future and if we find that the home is not making progress we won't hesitate to use our legal powers on behalf of the people who live there."