Jeff Allen and Harry Whelan break Ireland kayak record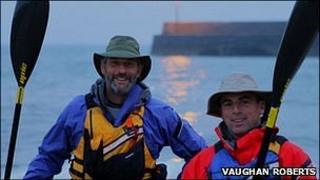 Two sea-kayakers have broken the record for paddling around Ireland.
Jeff Allen from, Falmouth in Cornwall, and Harry Whelan, from London, arrived in Ardmore, West Waterford, at about 1600 BST yesterday.
They completed the 1000-mile circumnavigation in 25 days, eight days less than the previous record of 33 days.
The trip was in aid of Ovarian Cancer Action.
Mr Allen, told BBC Radio Cornwall he and Mr Whelan had had "no sleep at all" for the last three days and were "exhausted".
He said: "We spent the last three days trying to catch up on miles that we'd lost because of bad weather."
Mr Allen's previous expeditions have included paddling around the island of South Georgia in the South Atlantic.