MPs hear coastguard concerns over Brixham and Falmouth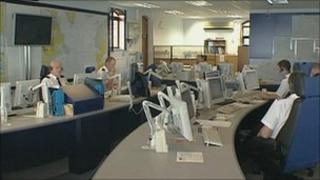 Senior MPs have met coastguards in Falmouth to hear concerns over government plans to reform the service.
Under the proposed plans, Falmouth would become a day-time only station and Brixham would close.
Chairman of the Commons Transport Select Committee Louise Ellman said: "We know there's a great deal of concern in the area about the possible closure in Brixham, about the possible reduction of Falmouth from being a 24-hour service to a part time service.
"Local concerns are extremely strong and that is one of the reasons we decided to come here to find out for ourselves just how people think.
"When we hear about people's concerns we will be putting that to the Minister and to the Chief Executive of the Maritime Coastguard Agency in Parliament."
Recently, Ms Ellman had warned that government "intimidation" could prevent coastguards from speaking out.
'Junior civil servants'
Following a tour of the Falmouth station she said coastguards had been allowed to speak openly to MPs but warned there should be no consequences.
In an earlier letter to Transport Minister Mr Penning, Ms Ellman had said: "It is imperative that no intimidation takes place in relation to coastguards who have either submitted written evidence or express a critical opinion about the proposed reorganisation."
Before the MPs' visit, Mr Penning was asked for assurances there would be no consequences from evidence given.
He told Ms Ellman that he had instructed regular coastguards to decline the committee's invitation to give oral evidence.
He said that inviting "relatively junior civil servants" to give evidence to the committee was not "an appropriate manner in which to communicate departmental views".
Ms Ellman said that during the meetings in Falmouth coastguards who were union representatives were being allowed by the Maritime and Coastguard Agency to give oral evidence to the committee in their union capacity, but not as individuals.
The MPs have also been hearing from Cornwall Council, Cornwall Fire and Rescue Service, Falmouth Harbour commissioner Mark Sanson, National Coastwatch Institution and the Royal Yachting association.