'Inefficient' Cornish police station could be sold off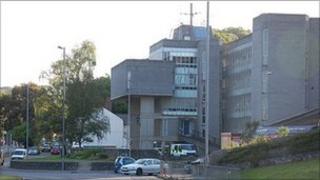 A Cornish police station could be sold off with officers sharing a building with other public services, the BBC has learnt.
Devon and Cornwall Police and Cornwall Council are in talks to see if alternative accommodation can be found in the Truro area to save money.
The council said front line policing would be safeguarded.
The police said no decision had been made and the possible sale of the Truro station was being investigated.
The force has to make £47m of savings over the next four years.
'Keeping costs down'
Ch Supt Michelle Slevin said: "We're looking at putting it [Truro Police Station] on the open market to see what interest there is.
"It's a large building - only 50% can be used because of the design, so it's inefficient and costing lots of money to maintain," she said.
Cornwall Council's cabinet member for community safety Lance Kennedy said: "It's a duty on all of us to save as much money as possible and to also safeguard front line services."
Ms Slevin said the possibilities could include sharing with any of the police force's partners including the local authority or the fire brigade.
"It's a means of keeping costs down", she added.
The police authority insisted no decision had been made about the future of Truro police station.