Cuttlefish bones wash up on Cornwall beaches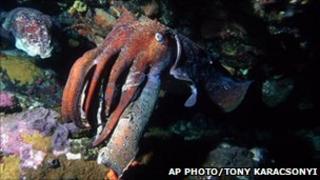 Thousands of cuttlefish are being washed up on Cornish beaches.
Local wildlife experts claim the weather may be the reason why Gwithian beach in west Cornwall has seen more than 50,000 cuttlefish bones washed up in recent days.
The creatures die after breeding and little is left of them once they reach the coast apart from their bones.
Cuttlefish are among the most intelligent of all the invertebrates with a large brain-to-body-size ratio.
Angie Gall, from Cornwall Wildlife Trust, said it is a busy time of the year for the mollusc species.
"This time of the year cuttlefish are breeding underwater and it's natural that the adults die after that.
"Why they're washing up on the shore in large numbers could be a result of the windy weather we've had recently. Just leave the bones on the beach they will naturally degrade."
Cuttlefish belong to the Cephalopoda class which also includes the squid and the octopus.
Dr Emma Jackson, a research fellow at the University of Plymouth, said: "It's a bit early in the season. What might be happening here is that if they are particular small, they are ones that spawned quite late on last year and haven't reached a big size. They might have died off because it's too cold and a lack of food."
The Cornwall Wildlife Trust is calling for people to report any large findings of cuttlefish bones to the Environmental Records Centre for Cornwall and the Isles of Scilly.