Definitely Devon clotted cream made in Cornwall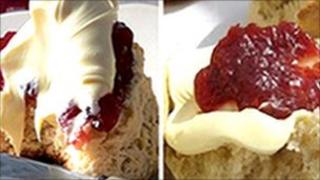 A brand of clotted cream named Definitely Devon is produced with Cornish milk and packaged in Cornwall, a dairy has said.
Wiseman's transferred its business to the Rodda's company in Cornwall earlier this year, when it shut its factory in Okehampton, Devon.
At the time it said the cream was still being made with Devon milk. The company has now admitted this has changed.
Devon trading standards said it is investigating.
When production was moved to Cornwall, Wiseman's said the county's trading standards told them to put a 'Made in Scorrier' sticker on the packaging.
Scorrier is a small village, a couple of miles from Redruth, and home to the Rodda's creamery.
'Very passionate'
In a statement, Wiseman's said it did not want to mislead customers and had been told by Cornwall trading standards that the sticker was acceptable.
Delores Reardon, from Devon trading standards, said: "We feel that well informed confident consumers are key to the business world of Devon.
"One of Devon's very important selling brands for their business is the quality association with the Devon brand.
"At trading standards we feel very passionate about protecting that brand."
Rodda's managing director Nicholas Rodda said: "We don't have any intention to mislead the public at all.
"We're just currently reviewing what we're going to be doing with the brand."
The neighbouring counties have a long-running rivalry when it comes to clotted cream and the traditional cream tea.
In Cornwall, the cream is said to go on top of the jam on a scone, while Devon prefers cream first and then jam.