Mayor fears for the future of regeneration projects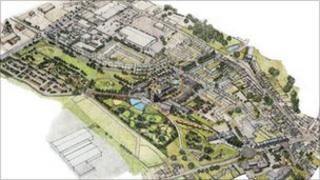 A Cornish mayor has expressed concern about the future of regeneration projects in Cornwall.
Redruth mayor Ian Thomas wants reassurances that the closure of CPR Regeneration a year early will not affect the town.
CPR Regeneration claimed it has brought £250m in investments to the Camborne, Pool and Redruth areas.
But its grants have run out and its work will now be handed over to the new Cornwall Development Company (CDC) in 2012.
Mr Thomas said: "To be fair to them they are still in the early stages of development. They are not clear what the future is.
"We have asked for one of their officers to come and address the town council, to give us the reassurance that we seek."
In a statement the company said: "We're not yet clear on the extent of all the legacy work required beyond March 2012.
"We are working closely with our partners to clarify this. And we hope to continue to build on these investments for future economic growth in the CPR area."
CPR Regeneration said one its great legacies is the multi-million pound Heartlands Project in Pool.
The project, which is expected to be completed in the Autumn, will create workspace, community space and flats for lease and hire.
The chief executive of CPR Regeneration, Nigel Tipple, said: "With any regeneration programme you would always want to see it to the end. I think what we've been able to do here is a series of projects which have got sustainability. They will continue."
The Cornwall Development Company (CDC) is a new economic development service.