Isles of Scilly artwork commemorates HMS Colossus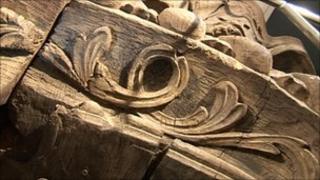 A five-metre high piece of carved elm dating back to the 1700s has gone on display on the Isles of Scilly.
The intricate carving shows the figure of a heavily moustachioed warrior and comes from the stern of HMS Colossus.
The warship came from the fleet of Lord Nelson. It was lost off Samson, one of the Isles of Scilly, in 1798.
In 2001 the carving was brought back to the surface by divers. At the time, art experts described it as one of the most important historic carvings.
HMS Colossus was a 74-gun Royal Navy ship.
She was launched at Gravesend, Kent, on 4 April 1787 and became known as one of the jewels in the Royal Navy's crown.
Greek antiques
Mike Nelhams, curator of the Tresco Abbey gardens on Scilly, where the carving has gone on display, said: "First the piece was raised, then it came to live on Tresco.
"We put it in a big tank with water running through it just to get the salt water out."
The carving then went to the Mary Rose Trust. Volunteers spent five years drying it out until it was in good order. Now the historic work can be seen by visitors to Tresco.
Getting the carving on display has taken a lot of money and effort.
Mr Nelhams said: "Besides the Isles of Scilly Maritime Trust, there's a government funded local action group fund which has given us a lot of money. Without them we wouldn't have been able to put it up."
Numerous books, and television documentaries have traced the story of the Colossus, one of Lord Nelson's favourite ships.
It was lost off Scilly on 10 December 1798, carrying a highly valuable collection of Greek antiques to the UK from Naples.