St Dennis incinerator group to go to ombudsman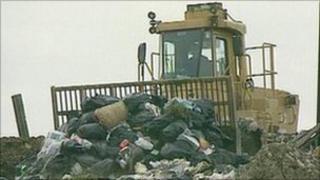 Protesters in Cornwall fighting against an incinerator say they will take their case to the Parliamentary Ombudsman.
Secretary of State Eric Pickles backed an appeal last week against a decision by the former county council to refuse permission for the St Dennis project.
Organisations including the Environment Agency used flawed science to assess the incinerator's impact, the St Dennis Strategy Group has claimed.
The agencies said their investigations were thorough.
Protesters claim the incinerator could damage people's health and the environment.
The St Dennis group said it had prepared complaints against the Environment Agency and Natural England, and that another complaint against the Health Protection Agency was likely to be lodged shortly.
'Going to fight'
Ken Rickard, chairman of the group, said the secretary of state's approval of the project had "made us more determined than ever".
He said: "The mood is gradually building towards a resolve which says we're still going to fight."
The Environment Agency said when the appeal was successful that all permits granted for the project were in line with "relevant procedures and laws" and that the criteria of the permit were designed to ensure the facility would not cause harm to environment or human health.
Natural England, in a written response to to the protestors, said it defended its performance.
The HPA told BBC Cornwall that it had sought advice from two air pollution experts and they concluded that there would not be a problem.
Sita UK, which plans to build and operate the incinerator, said it felt the company had fully expressed its position in interviews given after Friday's announcement.
In those interviews, project director David Buckle said that the company believed that the scientific investigation underpinning the project had been carried out properly.