Solar power for Cornish theatre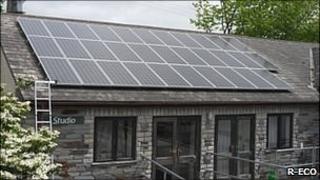 An open-air theatre on the edge of Bodmin Moor is hoping to go carbon-neutral in the next few years.
Sterts Theatre has cut its energy bills by having solar panels installed on the roof of its main office building.
The six kilowatt installation will provide energy for the lighting of the theatre, cafe, and the energy needs of the charity's administration offices.
The charity-run theatre hopes to make a 70% saving on its annual energy bills.
The cost has been met by a west Cornwall-based renewable energy co-operative called R-ECO and Cornwall Council.
The solar system at the theatre, near Launceston, was installed free-of-charge.
Technical Director of R-ECO, Abraham Cambridge said: "Cornwall is famous for its open air theatre. The fact that Sterts brings £200,000 a year to the Cornish economy, supporting them by match-funding a grant from Cornwall Council was a no-brainer on our side."
Peter Woodward, a Sterts trustee and a volunteer centre director, said: "Our energy needs are quite high especially in the summer when we could be looking after about four hundred people across the day.
"We spend several thousands pounds a year on electricity. Hopefully with the new panels that will end and we'll start getting some back as well.
"We think overall this will save us about £4,000 a year."
The theatre celebrates its 21st birthday in June. The first production, in the summer of 1990, was Othello.