Barn Owl Trust in West Cornwall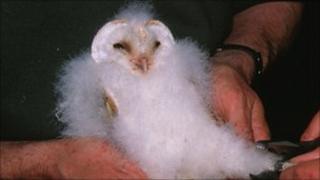 The Barn Owl Trust in Devon and Cornwall is keen to see how the cold spell earlier in the year has affected local populations.
Workers have started checking existing nesting locations but believe there could be more that are not known to the charity.
At present they monitor around 86 sites across Cornwall and Devon.
They aim to ensure existing nest sites stay occupied and that the owls produce more young to repopulate other sites.
Mark Grantham, a ringer from the British Trust for Ornithology is keen to find nest sites in West Cornwall and is working in liaison with the Barn Owl Trust.
"The sites that we visit are ones that are registered with the Barn Owl Trust. We have quite a large database of sites around Cornwall and Devon."
He added: "We are going round checking these sites but we are always keen to hear of more, so anyone who has barn owls in their barn or in their lofts, preferably in a box, but any old tea-chest or cavity, we would be keen to get them monitored."
During visits the Barn Owl Trust takes great care to minimise disturbance to the birds.
Once the owls have been caught, their number is checked and they are then carefully examined.
"What we are looking for is changes in colour, if it is a young bird, all their wings will be uniform in colour but the adults malt some of their feathers."
During nest visits, the adults are usually not present and the young are carefully removed from the box whilst each one is fitted with a British Trust for Ornithology ring.
Anyone who wants to report a site can phone the Barn Owl Trust on 01364-653026.