Falmouth ferry skipper guilty of alcohol charge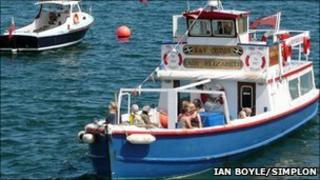 The skipper of a Falmouth-based passenger ferry has been found guilty of drinking while master of a ship.
David Pill, 39, from Tresillian Road in Falmouth, was almost four times over the legal alcohol limit, Truro Crown Court was told.
He was arrested and breathalysed by police who boarded the Lady Elizabeth ferry on 17 August 2010.
Pill, who was released on bail, will be sentenced at a later date.
The court heard that the breathalyser showed a reading of 134 micrograms per 100 millilitres of breath - the legal limit is the same for drink-driving, which is 35 micrograms per 100 millilitres.
Pill claimed that he had drunk a bottle of vodka after mooring the boat and turning off the engine.
He said he was stressed because he had had an argument with his boss earlier in the day.
The 50ft Lady Elizabeth, operated by K&S Cruises, can carry up to 75 passengers.
The company dismissed Pill following his arrest.