Canadian company bids for historic mine South Crofty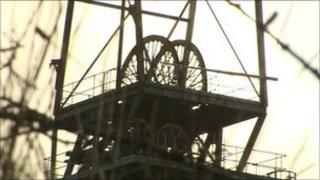 A Canadian mining company has announced it is planning to buy a historic disused Cornish mine.
South Crofty, near Camborne, in west Cornwall, closed in 1998 after the price of tin hit an all time low.
The multi-million pound deal could see the area redeveloped and the mine expanded.
The Celeste Copper Corporation currently has operations in the Atacama Desert of Chile, targeting copper, gold, and silver.
The company is initially aiming for a 25% stake in Crofty. That would cost at least £4.67m ($7.37m Canadian dollars).
'High metal prices'
Celeste Copper would then have a series of chances to buy more of the Cornish tin mine.
The crucial mineral rights extend beyond the site at Pool near Camborne, where the mining structures still stand. It covers 150 square kilometres under Cornwall.
One of the current owners is Western United Mining. In a statement Chief Executive Officer Alan Shoesmith said he was delighted that agreement had been reached.
"It represents another major step forward with our progress in getting South Crofty back into production," he said.
Denis Clement, President and CEO of Celeste said: "We are delighted to have the opportunity to participate in the expansion and redevelopment of the historic South Crofty mining region in Cornwall."
Cornwall Councillor Mark Kaczmarek who formerly worked at Crofty as a miner said: "It can only be good news if somebody wants to invest in mining in Cornwall.
"South Crofty is not the only mine in Cornwall that has got mineral reserves.
"Hopefully we will see a start, with high metal prices, of other mining companies showing an interest in Cornwall."
South Crofty was the last working tin mine in Europe when it closed in 1998.