BBC Cornwall attends Royal Cornwall Show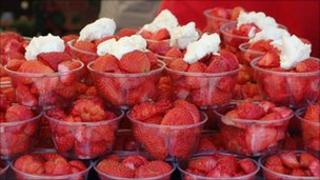 The Royal Cornwall Show returns from Thursday 9 June with three days of agricultural competitions, stands and entertainment.
For many people it is the Cornish event of the year.
Well over 100,000 visit the three day agricultural festival.
Regarded as a pinnacle in the local farming calendar, the event attracts people of all ages.
Choose from the entertainment, animal shows, flower shows, horses, countryside, forestry, steam and vintage vehicles, motor fair, agricultural machinery, fairground, festival of dance, dog show, goats, full music programme and over 1,000 trade stands.
BBC at the showground
Both BBC Radio Cornwall and BBC Spotlight will be offering extensive coverage of the Royal Cornwall Show.
BBC Radio Cornwall has one of the largest marquees on the site, offering on stage, and on air, entertainment throughout the three day event.
The stars of Mr Bloom's Nursery on CBeebies, Port Isaac's Fisherman's Friendsand of course our very own Elvis are all part of the entertainment.
See the full three day BBC Radio Cornwall line up
In the air and on the ground
Up in the air the Bolddog Lings Motocross Display Team will be twisting and turning in their displays.
Back on the ground, there is a first for the Royal Cornwall this year - camel polo.
Entries in the equine and livestock are at a high level - and there is an all-time record in the sheep section this year.
Their Royal Highnesses the Duke and Duchess of Gloucester will visit this year's Royal Cornwall show on Friday 10 June.
The steam fair at the show promises something different each year. One of the attractions in 2011 will be Judy, a low, four-wheeled saddle tank locomotive which used to work at Par harbour.
Judy's job at Par was to move clay wagons around. Her original partner, Punch, was scrapped in 1944 but she was given a new pairing with Alfred in 1933.
Both are now together and in operational condition at Bodmin.
Both are celebrated as the inspiration for the characters Bill and Ben in the Thomas the Tank Engine books by the Rev. Awdry.