Cornish charity ShelterBox off to tornado-hit US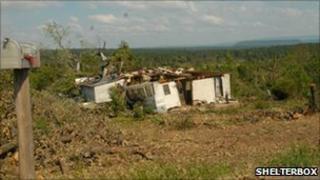 Cornish charity ShelterBox is sending aid to the disaster hit regions of the United States following last week's tornado.
Emergency supplies are heading to the towns of Etna and Denning in Arkansas where 50 families have lost their homes.
The boxes will be taken by a team from the Helston-based charity who will work with the American authorities.
This year several fierce storms and floods have hit the southern states.
So far 48 ShelterBoxes have been sent with a disaster response team to Arkansas.
ShelterBox member Yi Shun Lai said: "In rural northwest Arkansas, where folks are spread out, it's easy to overlook pockets of the population that are in need of help.
"We've seen folks whose homes are reduced to rubble but who remain on their land for fear of losing even more."
According to the National Oceanic and Atmospheric Administration (NOAA) 2011 is ranked seventh among the deadliest tornado years in US history.
The tornado that struck Joplin, in southwest Missouri, was the worst to hit American soil in more than 60 years.
Each ShelterBox contains a tent, blankets, water storage and purification equipment and cooking utensils.
It is the second time ShelterBox aid has been sent to the US, with ShelterBoxes being distributed to families after Hurricane Katrina in 2005.