Plan for £24m Cornwall sports stadium recommended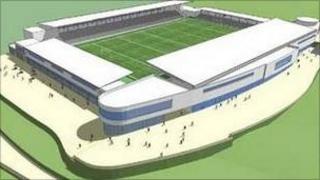 Consultants have said that if a new stadium is to be built in Cornwall, it should be a £24m project.
In a £78,000 feasibility study posted on Cornwall Council's website over the weekend, Gardner and Theobald said the project could create up to 400 jobs.
The full study recommended a "community" stadium with commercial facilities and a business centre.
If it goes ahead, it would be built at Langarth Farm, at Threemilestone, on the outskirts of Truro.
Gardiner and Theobald said a stadium would attract a visitor spend of up to £3m a year.
More than 11,000 people have signed a petition in support of the project.
Cornwall Council said when it commissioned its first study into a stadium in 2010 that, if built, the stadium would help nurture regional sporting talent to compete on a national scale.
However, it said in December that no public money would go towards its building because of spending cuts.