Eden Project Big Lunch events in Devon and Cornwall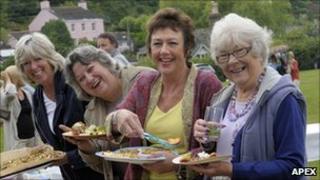 Thousands of people across Devon and Cornwall took part in the third Big Lunch on Sunday.
The event, which encourages neighbours to share a meal together is organised by Cornwall's Eden Project.
Organisers said an estimated one million people across the UK took part.
Last week Buckingham Palace announced that the 2012 Big Lunch would be part of the Queen's Diamond Jubilee celebrations.
One of the biggest regional gatherings was in Wadebridge, where more than 1,000 people took part.
'Fantastic to see'
Organiser Harriet Wilde told BBC Radio Cornwall: "I couldn't be happier.
"I was awake at three in the morning panicking about how it was going to go but I think it really has worked.
"The community seems to be stronger than ever, which is fantastic to see."
A Big Lunch event also took place in Truro.
Kath Hadden, who organised a Big Lunch in Exeter's Heavitree Pleasure Ground, said: "It's a really good way for people in the community to meet each other, especially if you don't know many people or you've just moved to the area."
Michael Leonard-Williams, who organised a lunch for 300 people in the village of Noss Mayo, near Plymouth, said: "It's been great fun and one of the best village events ever."
The Big Lunch initiative was inspired by the street parties organised for the Queen's Silver Jubilee in 1977 and is intended as a "simple act of community" to bring people together, a spokesperson for the Eden Project said.