Cathedral's newest bells ring out over Truro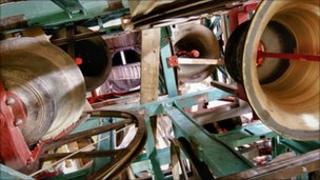 Cornwall's first ever ring of 12 bells has rung out - after four new bells were installed at Truro Cathedral.
For the past five months the cathedral's bells had been silent while bell foundry firm, Taylors of Loughborough, carried out the installation work.
The culmination of the five-year project to make Cornwall's ring of 12 finally came to fruition on Sunday.
The idea for the new bells came from bellringer Anthony Davidson.
The bells were commissioned to mark the 100th anniversary of the original bells. They have been produced by the same foundry that made the older bells.
'Very emotional'
Mr Davidson has been a cathedral ringer for more than 50 years.
For 25 of those years he had a dream to make up the original bells into a ring of 12, the accepted maximum for a bell tower.
He said: "Over the years I have had my doubts that I would ever see a ring of twelve in the Cathedral.
"I was so proud to be present, it was very emotional. I still can't believe that it has finally happened."
Two bells were added to the cathedral's original ring of 10. Two smaller bells have also been installed to give the option of a lighter sound.
The group of bellringers at the cathedral raised the £150,000 necessary to complete the project.
The master of the ringers, Robert Perry, said: "This has been a very special day for the cathedral ringers, the culmination of a lot of hard work by a lot of people.
"It has been a wonderful project, and well supported by other ringers from around the diocese.
"We hope that this new ring of 12 will attract other groups of bell ringers as well as providing a wonderful accompaniment to the worship at the cathedral."