Andrew George MP backs Joanne Bryce campaign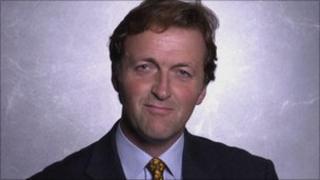 A woman from St Ives whose sister was killed in Cambridgeshire in 1996 is calling for a change in the law.
Joanne Bryce said the current law which allowed someone who killed their spouse to remain their next of kin was flawed.
Her sister Claire Oldfield-Hampson was beaten to death with a hammer by her husband, David Hampson.
Andrew George, the Liberal Democrat MP for St Ives, said he would tell a House of Commons debate that the families of victims were badly treated.
Hampson admitted manslaughter with diminished responsibility at Northampton Crown Court in 1999.
'You've got nothing'
Mrs Bryce said her family felt they had no rights under the current law.
She said: "You can't get over it, because there's no end to it.
"People talk about closure. How can you have closure when you've got nothing of your sister's?
"You've got something missing from your life the whole time. Working through the system is like working through a fog."
Mrs Bryce said: "Her husband took a hammer and killed her. He then buried her body in the garden. There's never been a day when Claire hasn't been part of our lives."
Mrs Bryce has a few photographs of her sister, but she said that was all.
She said: "A man can murder his wife, or a wife can murder her husband, because they are not found guilty until the trial they are next of kin. They inherit everything.
"Claire's school certificates, her photographs, we have nothing. I bought a copy of her death certificate and birth certificate to show she did exist.
"Two women a week are killed by their husbands or partners. The law says now a partner is next of kin. You don't even have to be married to be next of kin. This must be happening to other families. They must be going through the trauma we've gone through and still going through."
Mr George said: "I've been working with Joanna Bryce and her family for more than 12 years. I am confident we can make progress here.
"Every time I have raised this issue with successive ministers there's a lot of sympathy. I don't want to have anymore tea and sympathy. We want to have some action."