HMS Penzance visits namesake town in Cornwall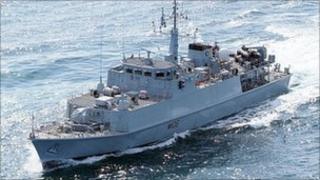 A Royal Navy ship has called into its namesake town in Cornwall for a weekend after a scheduled trip was cancelled last year due to adverse weather.
HMS Penzance is on a four-day visit after a period of mine countermeasures operations around the UK.
Its commanding officer, Lt Cdr Steve Brown, said he had been "waiting for this opportunity for some time".
During the weekend the decks are open to the public, giving a taste of life on board a warship.
HMS Penzance is one of seven Sandown class mine hunters, equipped with the latest navigation and manoeuvring systems.
Deploy to Gulf
The specialist equipment allows the ship to hover over a fixed point, searching for mines using sonar to depths in excess of 200m (656ft).
Lt Cdr Brown said: "I am immensely proud to be bringing my ship to Penzance and I aim to reinforce the superb relationship the town and the ship have.
"We are delighted to be able to open to visitors during this stay and I look forward to welcoming local people on board and chatting to them about the Royal Navy and HMS Penzance."
After the hometown visit, HMS Penzance - which was commissioned on 14 May 1998 - will depart on 13 June back up to its home port of Faslane in Scotland.
The ship's crew will then deploy to the Gulf later this year.