Truro homeless project goes countywide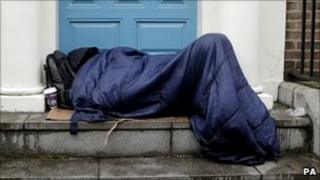 A project to help young homeless people in Truro is expanding across Cornwall.
The Truro Foyer Streetwise project is proving so successful it has just been given extra funding from Cornwall Council.
The scheme mentors young people who are living on the streets through the process of applying for accommodation, reconciliation and general support.
It was the brainchild of 24-year-old Kelvin Pennington who has himself experienced being street homeless.
Mr Pennington said: "Being under 19, homeless, estranged from your family, I think it's tough enough just being homeless without dealing with trying to get accomodation yourself.
"We mentor young people through the process. We're with the young people at their appointments. They have got support any day they want. They can get food parcels and advice about different agencies."
'Lost everything'
Nineteen-year-old Sean has been homeless since December 2010 and had to drop out of college. The Streetwise project is helping him to find new accomodation.
Sean said: "It all started with family issues with me and my Mum. It just came out that my Mum didn't want me at home anymore.
"It made me feel really down and in shock. I had my college course going and I was looking for work. I lost everything."
Mr Pennington said he would like to hear from anyone with donations of blankets, tents or tinned food which could be used by some of the young people being supported by the project. The number to call is 01872 277 422.