Cornish Newlyn School of Art goes under the hammer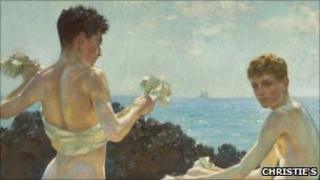 Work from Cornwall's Newlyn School of Art is expected to fetch hundreds of thousands of pounds at an auction today.
The lots at Christie's in London include paintings by artists like Henry Scott Tuke. Singer Elton John is a fan of his work.
One piece entitled "Under The Western Sun", which depicts two naked young men is valued at more than £250,000.
The paintings reflected fishing life in the Cornish port.
The term Newlyn School was used to describe a colony of artists based in or near to Newlyn from the 1880s until the early 20th Century.
Many artists preferred to work in the west Cornwall fishing port because of the natural light and the abundance of cheap models.
The paintings highlighted the hazards of being a fisherman. Sometimes they would show women looking out to sea as the boats go out, or a young woman crying as news of a disaster is heard.
A painting from Plymouth, called The Portrait of Miss Bury by Sir Charles Locke Eastlake, is estimated to sell for between £120,000 and £180,000 at the same auction.