MP calls for help for Redruth man in Senegal prison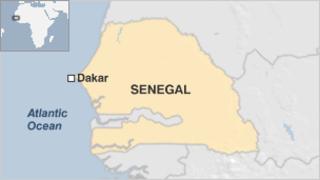 An MP has urged the Foreign Office to help a man from Cornwall who has been jail in Senegal for three years.
Taxi driver Stephen Scarlett, from Redruth, was jailed after driving three people from The Gambia to Senegal. All four were found guilty of visa fraud.
Conservative Camborne and Redruth MP Mr Eustice told the Commons Mr Scarlett should have already been released.
The Foreign Office said it could not help directly, but that Fair Trials International was involved in the case.
'Fighting a battle'
Mr Scarlett had been in The Gambia to work on plans to build a retirement home there.
All three of his passengers have since been released from jail.
Mr Eustice, MP for Camborne and Redruth, asked if any financial help was available for legal proceedings to secure Mr Scarlett's release.
"He remains in prison despite the fact that his sentence ended in February this year," he said.
"But, despite that, his family has not been able to get any financial assistance to help them navigate the local legal system."
Foreign Office Minister Jeremy Browne said financial assistance was possible.
"The responsibility of ensuring that Mr Scarlett receives the best possible outcome rests with his lawyer," he said.
"What I can add is that the Foreign and Commonwealth Office supports and part-funds three groups - Prisoners Abroad, Reprieve and Fair Trials International - all of which assist British citizens.
"We are aware that Fair Trials International has offered its assistance to his family."
Mr Scarlett's wife, Jackie, who is still in Redruth, said the situation had been causing a great strain on the family.
She said: "I've been fighting such a battle for the last three years.
"It's taken its a toll on me as well as my husband."